The Best BBQ in Eastern North Carolina!

Slow Cooked And Made With Pride
Our pork is slowly cooked in a covered cooker which holds in the smoked flavor. The meat is then chopped and ready to eat. Great on sandwiches in a hamburger bun with cold slaw or by itself, there is no other Bar-B-Q like it.

CHECK OUT OUR MENU

Platter items include the best pork Bar-B-Q, Fried Chicken, Fried Shrimp, and other side dishes! Try the Brunswick stew, boiled potatoes, coleslaw, french fries, and fried pork skins.  And of course, a basket of the White Swan's celebrated hushpuppies are served with each platter.
AWARD WINNING FAMILY RECIPE
White Swan Bar-B-Q features award winning, genuine Eastern North Carolina pork barbecue. Made from a 50 year old secret family recipe, White Swan Bar-B-Que has been voted one of the top 25 Bar-B-Qs in the Southeast. Eastern North Carolina Bar-B-Q is unlike any other in the world. It's a taste that you must experience. Our Bar-B-Q is made with a vinegar and spice sauce which enhances the smoked flavor of the fresh pork.
CLICK HERE TO LEARN MORE
Private dining facilities for groups of up to 50 people are available. We also offer a variety of catering platters to take your party or event to the next level!
CLICK TO GET CATERING FROM WHITE SWAN
Meet Boss Hog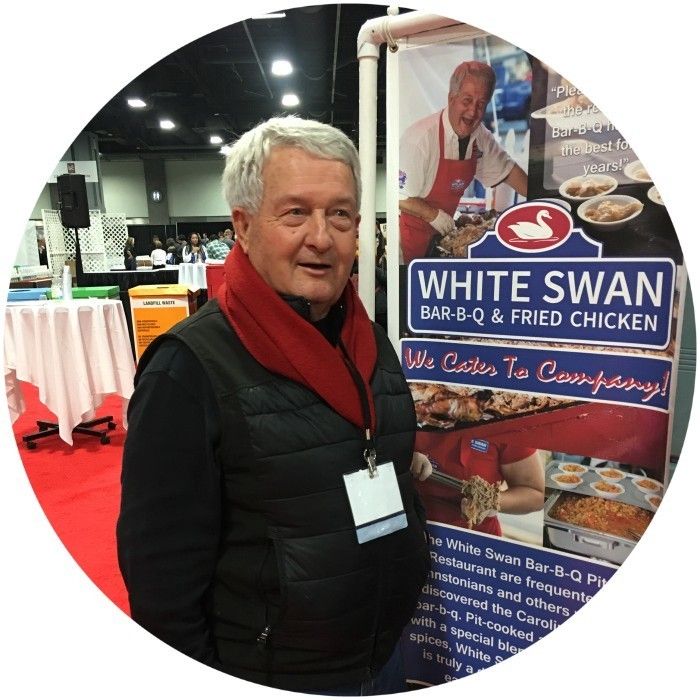 "Our philosophy is to keep the good food coming. With four restaurants we serve a lot of pork. Whether it's a pulled pork sandwich or 'An Old Timers Tray' our pork is award winning. In fact, Chili Pepper magazine voted us one of the best barbecue restaurants in the United States! It's all about the quality of the meat and our 50 year old recipe."

President, Linwood Parker, White Swan BBQ.  
From Our Family To Yours - Thank You!